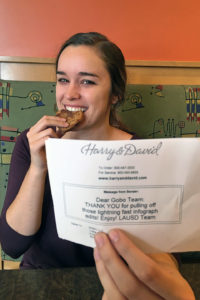 We love our work and enjoy helping educators better engage their communities. And it is a great opportunity for us to help the largest school district in California (and the 2nd largest in the U.S.). It's even better when we get cookies.
"I always look forward to building relationships with clients, but I never expected to find a box of cookies on my desk!" said Paris Trujillo, Gobo's Client Advocate. "While the gift was not at all necessary, it is always nice when a client shows their appreciation for what we do."
Gobo's partnership began a few months ago and is due largely to the help of the United Way of Greater Los Angeles, which funded the LCAP Infographics. United Way is a great example of a community organization stepping up to assist their local district and help students. It has been our pleasure to partner with these two groups to create their 2015 & 2016 LCAP Infographics, a tool their many thousands of stakeholders can easily digest and understand.
"When working with large organizations you never know what to expect," said Paris. "But the LAUSD team has been a joy to work with. You can sense their desire to not only help their students, but also better communicate how they plan to do so."
As Gobo and its network of clients continue to grow, we hope to see more community partnerships like this one. The support and encouragement we have received from the 60+ districts we have worked with propels us into this next LCAP year, with more good things to come!
See Los Angeles USD's 2015-16 LCAP Infographic (2016-17 coming soon).