Engage your most important stakeholders – your students – in a way that stimulates conversation about achieving goals and measuring progress, incorporates important planning concepts into classroom curriculum, and provides valuable LCAP feedback from the stakeholders that matter most.
Gobo's LCAP Student Stakeholder Kit gives administrators, teachers, and parents a unique set of engagement tools specifically designed to reach students. The kit is designed to easily get you started with 1 large or 2 smaller classrooms and includes: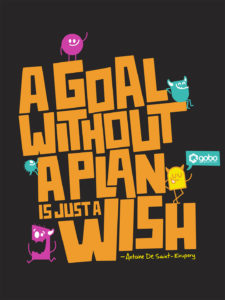 1 Student Stakeholder LCAP Infographic with embedded feedback (in electronic PDF format for unlimited copies)
2 large Wall Posters of the Student Stakeholder LCAP Infographic
2 supporting, motivationally-themed "Goal Without a Plan is Just a Wish" Posters
50 pre-printed color Handouts of the infographic
50 fun Monster Stickers
2 Facilitator Guides for easy use
This kit helps support multiple California Education Priorities focused on engagement, but more importantly, the kit actively increases the depth and breadth of stakeholder participation. Contact us about quantity discounts or for more information.