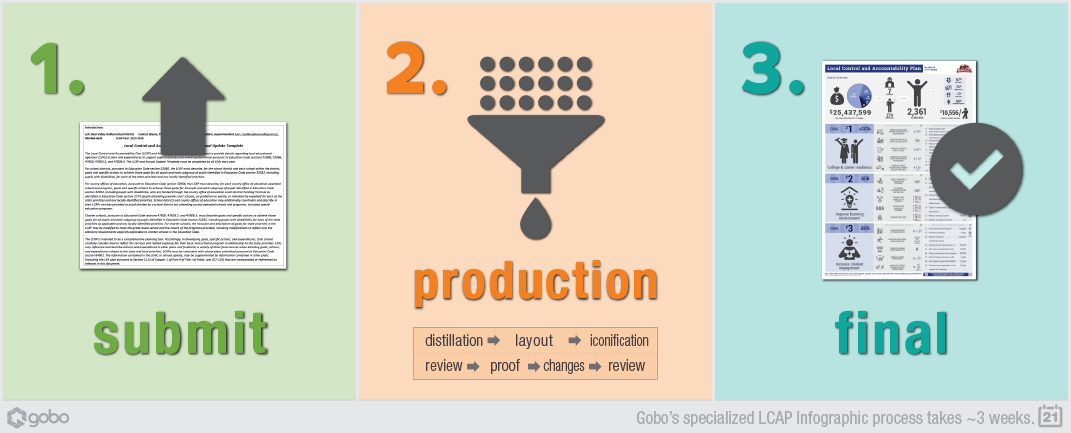 Through a unique combination of skills, experience, and insight, Gobo has developed a proprietary LCAP and SPSA Infographic process that ultimately helps LEAs (Local Education Agencies) better communicate and engage all stakeholders:
1. You simply submit your standard LCAP or SPSA document.
2. We process your LCAP/SPSA through our distillation, layout, iconification, and review system and send you a proof. You get back to us with any changes.
3. We produce the final version of your LCAP/SPSA Infographic, with the whole process taking about 3 weeks. We then begin work on any other options such as translations or posters, which will typically take another couple weeks.
Questions? Please contact us.
The Gobo Advantage
We conceived and created the first original LCAP Infographic in 2014. We have helped over 90 California School Districts, Charters, and County Offices of Education, from the smallest to the largest, better communicate their Plans and engage their stakeholders. By working closely with this variety of education organizations, we have constantly refined and improved our specialized process and our products. These resulting efficiencies allows us to deliver more cost-effectively than others can.
Because our unique process requires us to digest and distill each LCAP or SPSA, we have a more intimate knowledge of what makes a good education plan and how to best communicate an organization's intent, giving us arguably a better perspective than most anyone else in California. Our LCAP and SPSA Infographics were designed specifically for California education by a School Board trustee with 30+ years of graphic design and data visualization experience. Our designs also leverage cutting edge behavioral science and engagement strategies.
We get education and understand different stakeholder perspectives and sensitivities. Please don't confuse our pleasing and accessible design with quick and easy. It has taken us 1,000s of hours to get to this point, and we would welcome the opportunity to put that effort to work for you.