Gobo's LCAP Plan Summary Tool is a quick and easy way to make a well-structured, approvable Plan Summary, for free, in just 3 simple steps: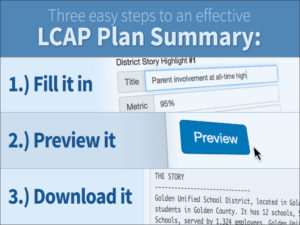 1.) Fill in the simple webpage at lcapplansummarytool.goboinfo.com with content that describes your LEA. Need inspiration? Sample data is just a click away.
2.) Preview your entry. If it is not quite right, you can go back and edit it anytime because we already saved it for you. The structured and vetted format helps ensure an effective and compliant Plan Summary, and benefits from the hundreds of LCAPs we have worked on across California.
3.) Download the automatically generated Plan Summary narrative text that can be easily pasted into a full-length LCAP.
This LCAP Plan Summary Tool is another example of the ways we work to make the LCAP process better. If you have any input on this tool, we'd appreciate your feedback. Try the Tool now or contact us about our growing suite of LCAP tools.